PopClip User Guide
When you select text using your mouse, PopClip appears with these actions:
Cut, Copy and Paste
Just like usual clipboard functions on your Mac.

Try it out:

copy me to the clipboard

Note: Cut and Paste only appear where the text is editable.

Search
Perform web search for the selected text, in a new browser tab.
Open Link
Open the selected web address(es), in a new browser tab.

Try it out:

apple.com/mac

boingboing.net

Tip: If you select several links, PopClip will open all of them.

Bonus tip: If you hold shift (⇧) when you click Open Link, PopClip will copy the links to the clipboard as a list.

Use Address
Compose a new email to the selected address(es).

Try it out:

support@pilotmoon.com

Reveal in Finder
Reveal the selected file path in Finder.
Dictionary
Look up the selected word in the built-in Dictionary app.

Try it out:

supercalifragilisticexpialidocious

Note: The Dictionary action only appears if the word you selected it actually in the dictionary.

Spelling
If PopClip thinks the word is misspelled, it will offer suggestions. Click the correct word to correct the spelling.

Note: Spelling suggestions only appear where the text is editable.

Another note: You may need to set the Spelling Language in PopClip preferences, to match the language you are writing in.

And many, many more...
Make sure to check out the PopClip Extensions page, where you can choose from over 100 more actions to add to PopClip. You can also make your own extensions.
When does Paste appear?
Paste appears when you click editable text immediately after performinh Copy or Cut using PopClip. To make Paste appear at other times (without selecting text), either hold down the mouse button for about half a second, or click twice in the same place.
How long does PopClip stay on screen?
PopClip's will remain on screen until:
You click or type anywhere out side PopClip
You move the mouse away to another part of the screen
You scroll the scroll wheel
Paste and Match Style
Hold down the shift (⇧) key when you click Paste, to paste without formatting. You can also hold shift when you click Copy (and Cut), to copy without formatting.
Tip: You can also add a dedicated Paste and Match Style button using the Paste and Match Style extension.
Prevent PopClip appearing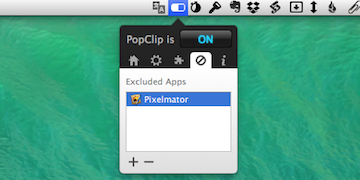 There are several ways to tame PopClip, if you find that it appears when you don't want it to.
Hold down the ⌘ or Fn key while selecting text, and PopClip will not appear.
To avoid PopClip showing up when using a particular application, add it to the Excluded Apps list in PopClip preferences. Click the '+' button to show the file chooser, and select the application you want to add to the list.

Tip: Holding ⌥ when clicking '+'adds the currently active application directly to the list.

You can turn off PopClip completely by clicking the on/off button in the preferences panel.

Tip: Right-clicking the PopClip menu bar icon is a shortcut to toggle PopClip on/off.

Advanced tip: You can also toggle PopClip on/off using AppleScript.
Advanced Topics
Now that you have mastered the basics, see the Advanced Topics section to get more out of PopClip.